Hey y'all. How was your weekend? Mine was cool. I went out Friday night. Had a few drinks. Listened to some good music and just chilled.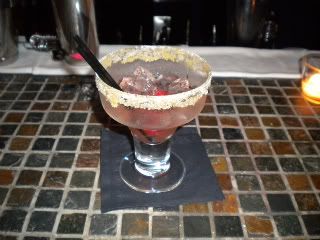 So yeah. More random photos because I'm really loving my camera. I'm snapping pictures of everything. I'm no where near being a photographer, so I'll spare you all the entire contents of my memory card. You can thank me later.
I've learned to zoom in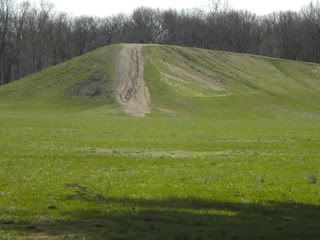 and zoom out.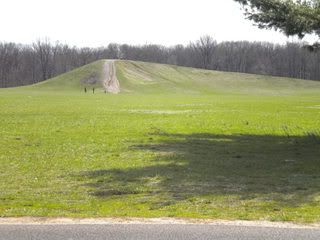 This is the type of hill I imagine when people say they are hill training.
Please tell me that hill training isn't that ridiculous.
And the best part is that I haven't cracked open the instruction booklet yet. I feel that if I have to read an instruction booklet to figure out the basics, then the damn thing isn't user friendly and I'd be better off without it anyway.
So on to the run...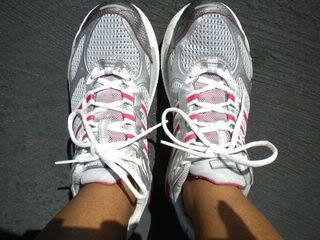 I love my Adidas. Aren't they cute?
I have no idea why it was so fast
(especially with feminine issues)
. Maybe I was just really diggin' today's
music selection
(It came highly recommended by a DJ acquaintance. This album is

HOT HOT HOT!!

)
. Maybe I loved running in short sleeves and a skirt.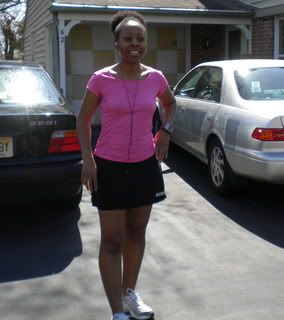 With the sun all in my eyes. I didn't even realize he took the picture.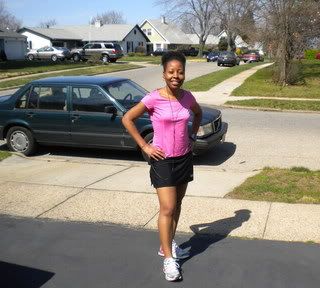 So we took another picture. This time, I could see.
It's about time Spring made an appearance. The weather has been sucky lately.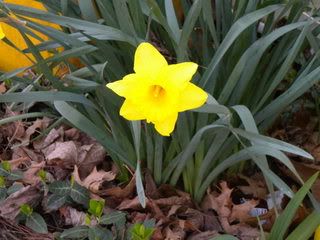 Daffodil outside my house.
Or maybe because it was warm enough to run sockless. Socks just don't agree with me. Who likes a hot foot? I don't. It's just more comfortable to me. And I can feel the breeze go through
my sneakers.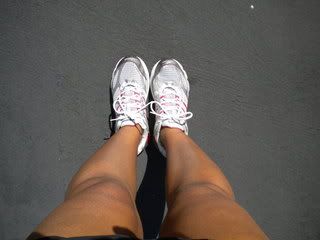 Sockless running is hardcore!
But whatever the case may be, it turned out to be a good run.
5mi at a 8:53 pace!
And get this, it was fairly consistent too. Check my splits when you get a chance. Anyway, I'm truly amazed. There's no other way to put it. So my fast day is your slow day, but still. It's an improvement.
In other news, guess what I did? I joined
New York Road Runners
and registered for two 10k races.
Michelle
talked me into it
(If someone's looking for a negotiator, look her up)
. For one, I don't live in NY. Two, I don't live close either. Three, but I love NY and have family there and was born there. So why not race there? The first race is scheduled for May 16th, and the other is June 7th. Both are in Central Park. Maybe if I run the hill in the park near me, I'll be prepared for it. I hear Central Park is hilly. I'm not sure how I feel about that. Oh, and I did mention some months ago about possibly running the Brooklyn Half
(again Michelle's doing)
. Brooklyn Represent! But they have yet to pick a date. So I'm still waiting on that one.
Anyway, I've done enough rambling and picture posting. And I am starving. So yeah, I need to work on that. Enjoy what's left of your weekend!